Investigation of the relationship between postpartum depression in primiparous pregnants experiencing psychological distress during pregnancy: Prospective study
Keywords:
Nursing, Postpartum depression, Pregnancy Distress
Abstract
Aim: To examine the relationship between the occurrence of
postpartum depression in primiparous pregnant women who experience distress during pregnancy. Material and Methods: The study was of prospective type and was conducted with 176 women. In the study, data were collected with the Participant Description Form, Tilburg Pregnancy Distress Scale and Edinburgh Postpartum Depression Scale (EPDS). The data obtained from the research were analyzed by t-test in independent groups, McNemar test and one-way ANOVA test in dependent groups. Results: In the study, it was determined that the mean age of the pregnant women was 25.96?4.76. As a result of the analysis, it was determined that % 58.8 of the women who experienced distress during pregnancy experienced depression in the postpartum period. Conclusions: Distress experienced during pregnancy was found to be a predictor of postpartum depression.
References
Aasheim Richter J, Bittner A, Petrowski K, Junge-Hoffmeister J, Bergmann S, Joraschky P, et al. (2012). Effects of an early intervention on perceived stress and diurnal cortisol in pregnant women with elevated stress, anxiety, and depressive symptomatology. Journal of Psychosomatic Obstetrics and Gynecology. 33(4): 162-70.
Arslan B, Arslan A, Kara S, Öngel K, Mungan M. (2011). Gebelik anksiyete ve depresyonunda risk faktörleri: 452 olguda değerlendirme. Tepecik Eğit Hast Derg 21 (2): 79-84.
Boekhorst, M. G., Beerthuizen, A., Van Son, M., Bergink, V., & Pop, V. J. (2019). Psychometric aspects of the tilburg pregnancy distress scale: data from the happy study. Archives of women's mental health, 1-5.
Brenda M, Leung Y, Bonnie ND, Kaplan J. (2009). Perinatal depression: prevelance, risks, and the nutrition link-a review of the literatüre. Journal of the American Dietetic Association;109 (9):1566- 77.
Brummelte S, Galea LAM. (2010). Depression during pregnancy and postpartum: Contribution of stress and ovarian hormones. Progress in Neuro-Psychopharmacology & Biological Psychiatry. 34, 766–76.
Çakır L, Can H. (2012). Gebelikte sosyodemografik değişkenlerin anksiyete ve depresyon düzeyleri ile ilişkisi. Turkish Family Physician. 3(2): 35-42.
Çapık A, Ejder Apay S, Sakar T. (2015). Gebelerde distres düzeyinin belirlenmesi. Anadolu Hemşirelik ve Sağlık Bilimleri Dergisi 18(3):196–203.
Çiltaş YN, ve Tuncer SK. (2019). Gebelikte distresin tanımlanması: Erzincan örneği. MAKÜ Sağ. Bil. Enst. Derg. 7(1): 15-24.
Dündar T, Özsoy S, Aksu H, Toptaş B. (2019). Obstetrik özelliklerin gebelikte distres üzerine etkisi. Anadolu Hemşirelik ve Sağlık Bilimleri Dergisi, 22(1): 17-24.
Ekelin M, Svalenius EC, Larsson AK, Nyberg P, Maršál K, Dykes AK. (2009). Ebeveyn beklentileri, deneyimler ve reaksiyonlar, gebelik sırasında normal bulgular ile rutin ultrason muayenesine bağlılık duygusu ve kaygı derecesi. Prenat Diagn 29: 952-959.
Engindeniz AN, Küey L, Kültür S. (1997). Edinburg doğum sonrası depresyon ölçeği Türkçe formu geçerlilik ve güvenilirlik çalışması. Bahar Sempozyumları. 1: 51-52.
Erkal Aksoy Y, Ünal F, İnçke G, Çil G, Oruç K, Yılmaz T, Yıldırım Ş, Dereli Yılmaz S. (2016). Postpartum depresyonun emzirme üzerine etkisi. Gümüşhane Üniversitesi Sağlık Bilimleri Dergisi. 5(3): 90-96.
Ertuğrul, M. (2013). Tilburg gebelik distress ölçeği' nin türkçe'ye uyarlanması: geçerlik ve güvenirlik çalışması. Yüksek Lisans Tezi, Dokuz Eylül Üniversitesi, İzmir.
Furber CM, Garrod D, Maloney E, Lovell K, McGowan L. (2009). A qualitative study of mild to moderate psychological distress during pregnancy. International Journal of Nursing Studies. 46(5): 669-77.
Hahn-Holbrook J, Cornwell-Hinrichs T, Anaya I. (2018). Economic and health predictors of national postpartum depression prevalence: a systematic review, meta-analysis, and meta-regression of 291 studies from 56 countries. Front Psychiatry. Feb 1;8:248. doi: 10.3389/fpsyt.2017.00248. eCollection 2017
Ingstrup KG, Schou Andersen C, Ajslev TA, Pedersen P, Sørensen TIA, Nohr EA. (2012). Maternal distress during pregnancy and offspring childhood overweight. Journal of Obesity doi: 10.1155/2012/462845.
Karaçam Z, Ançel G. (2009). Depression, anxiety and influencing factors in pregnancy: A study in a Turkish population. Midwifery. 25(4): 344-56.
Kızılkaya Beji N, Aydın Özkan S. (2015). Gebelikte görülen fizyolojik/psikolojik değişiklikler. Kadın sağlığı ve hastalıkları hemşireliğine giriş. Kızılkaya Beji, (Ed), 1.Baskı. İstanbul: Nobel Tıp Kitabevi. p:228-244.
Lobel M, Cannella DL, Graham EJ, Devincent C, Schneider J, Meyer AB. (2008). Pregnancy-specific stress, prenatal health behaviors, and birth outcomes. Health Psychology. 27(5): 604-15
Muzik M, Marcus SM, Heringhausen JE, Flynn H. (2009). When depression complicates childbearing: guidelines for screening and treatment during antenatal and postpartum obstetric care. Obstetrics & Gynecology Clinics of North America 36(4):771-88.
Nasiri S, Akbari H, Tagharraobi L, Tabatabaee AS. (2018). The effect of progressive muscle relaxation and guided imagery on stress, anxiety, and depression of pregnant women referred to health centers. Journal of Education and Health Promotion. DOI: 10.4103/jehp.jehp_158_16
Özdamar Ö, Yılmaz O, Beyca HH, Muhcu M. (2014). Gebeli̇k ve postpartum dönemde sık görülen ruhsal bozukluklar. Zeynep Kamil Tıp Bülteni 45: 71-7.
Özkan H, Üst ZD, Gündoğdu G, Çapık A, Şahin SA. (2014). Erken postpartum dönemde emzirme ve depresyon arasındaki ilişki. Şişli Etfal Hastanesi Tıp Bülteni, 48(2):125-32.
Pop V, Pommer A, Pop-Purceleanu M, Wijnen H. (2011). Development of the tilburg pregnancy distress scale: the TPDS. BMC Pregnancy and Childbirth 11: 80.
Schuurmans C, Kurrasch DM. (2013). Neuro developmental consequences of maternal distress: what do we really know? Clinical Genetics. 83(2): 108-17.
Uzel N ve Özbalcı S. (2017). Bağlanmaya zarar veren etmenler. Bağlanma. İçinde Doğum öncesi ve sonrası dönemde bağlanmanın güçlendirilmesi Ankara: Modern Tıp Kitap Evi p: 52-54.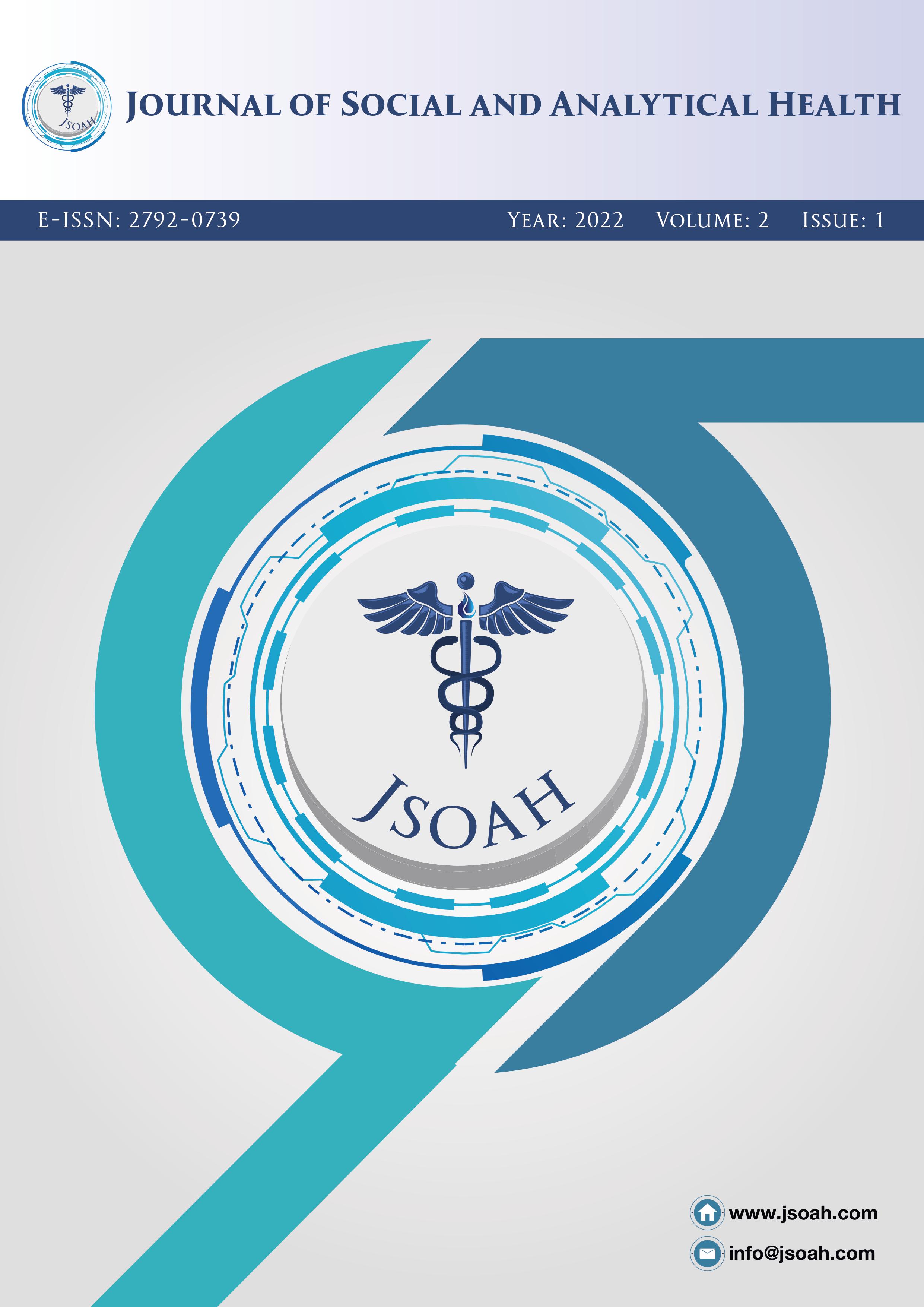 Downloads
How to Cite
Simsek Kucukkelepce, D., Aydin Ozkan, S., & Yilmaz, S. (2022). Investigation of the relationship between postpartum depression in primiparous pregnants experiencing psychological distress during pregnancy: Prospective study. Journal of Social and Analytical Health, 2(1), 8–14. https://doi.org/10.5281/zenodo.6342685
Section
Orijinal Articles
License
Copyright (c) 2022 Journal of Social and Analytical Health
This work is licensed under a Creative Commons Attribution-NonCommercial 4.0 International License.