Communication with infertile women who failed treatment: "An examination of Orlando according to interaction theory"
Theory-based care for the infertile woman
Keywords:
Infertility, Communication, Interaction, Nursing, Orlando
Abstract
Nursing is a care-oriented profession based on human and mutual interaction. Considering that care providers and care recipients are human beings in the nursing care process, it can be said that communication and interpersonal relations are at the forefront. Understanding, recognizing and interacting with each other is fundamental to the positive and healthy progress of the service provided. Nurses are one of the primary health professionals who can maintain this communication within the health system and contribute positively to the health of the care recipient. Nursing theories, which are used for communication and interaction that will contribute to care, provide guidance on how the nurse should think while giving care to the individual. Orlando's theory focuses on interpersonal interaction.. The aim of this article is to present the nursing care of the woman whose infertility treatment failed, by embodying it according to Orlando's deliberative nursing process (interaction) theory.
References
https://www.cetad.org.tr/. Cinsel Eğitim Tedavi ve Araştırma Derneği (CETAD). İnfertilite. [Cited 12 Ekim 2021]. Available from: https://www.cetad.org.tr/73/sik-sorulan-sorular/61/infertilite#:~:text=Bir%20%C3%A7iftin%2012%20ay%20boyunca,(ikinci)%20infertilite%20olarak%20tan%C4%B1mlan%C4%B1r.
Kan Ö, Alkılıç A, Yüce T, Berker B. Management of unexplained ınfertility. Archiveses Medical Review Journal. 2014;23(3):506-518.
Amanak K, Karaöz B, Sevil Ü. Effect of the modern life on ınfertility. TAF Prev Med Bull. 2014;13(4):345-350.
https://uroweb.org/guideline/male-infertility/#2. European Association of Urology [Update March 2018; cited 2 December 2021]. Available from: https://uroweb.org/wp-content/uploads/EAU-Guidelines-on-Male-Infertility-2019.pdf.
Erdemir F, Fırat F, Gençten Y. Sperm morfolojisinin değerlendirilmesi ve klinik önemi. Türk Üroloji Seminerleri. 2013;2:11-17.
https://www.who.int/. World Health Organization (WHO). Infertility. [Update 4 Februaruy 2020; cited 15 November 2021]. Available from: https://www.who.int/news/item/04-02-2020-multiple-definitions-of-infertility.
https://www.who.int/. World Health Organization (WHO). Mother Or Nothing: The Agony Of İnfertility. World Health Organization Bulletin. 2011;88(12):877-953. Available from: http://www.who.int/bulletin/volumes/88/12/10.011210.pdf).
Upkong D, Orji E. Mental health of infertile women in Nigeria. Turk Psikiyatri Derg. 2006;17:259-65.
Devine KS. Caring for İnfertile Women. Am J Matern Child Nurs. 2003;28(2):100-105.
Güleç G, Hassa H, Yalçın EG, Yenilmez C. The effects of infertility on sexual functions and dyadic adjustment in couples that present for infertility treatment. Turk Psikiyatri Derg. 2011;22:166-76.
Morreale M, Balon R, Tancer M, Diamond M. The impact of stress and psychosocial interventions on assisted reproductive technology outcome. J Sex Marital Ther. 2011;37:56-69.
Ebrahimzadeh Zagami S, Latifnejad Roudsari R, Janghorban R, Mousavi Bazaz SM, Amirian M, Allan HT. Iranian infertile couples' strategies to manage social interactions after unsuccessful treatment with assisted reproductive technologies. Hum Fertil (Camb). 2021;24(5):341-352.
Durgun Ozan Y, Okumuş H. Tedavi sonucu başarısız olan infertil kadınların Watson'ın insan bakım kuramına göre hemşirelik bakımı. Anadolu Hemşirelik ve Sağlık Bilimleri Dergisi. 2013;16(3):190-198.
Gigliotti E. The Value of Nursing Models in Practice. Dokuz Eylül Üniversitesi Hemşirelik Yüksekokulu Elektronik Dergisi. 2008;1(1):42–50.
Romeiro J, Caldeira S. The Human Responses and Nursing Diagnoses of Those Living With Infertility: A Qualitative Systematic Review. Int J Nurs Knowl. 2019;30(3):173-189.
Fawcett J. Watson's Theory of Human Care. In Contemerory Nursing Knowledge an Analysis and Evaluation of Nursing Models and Theories (2nd ed.). Philadelphia, F.A. Davis Company, 2005:553-99.
Birol L. Hemşirelik süreci. İzmir, Etki Yayınevi, 2007.
Velioğlu P. Hemşireliğin Düşünsel Temelleri. İstanbul, Alaş Ofset Matbaası, 1994.
Velioğlu P. Hemşirelikte Kavram ve Kuramlar. İstanbul, Alaş Ofset, 1999.
Ocakçı AF, Ecevit Alpar Ş. Hemşirelikte kavram, kuram ve model örnekleri. İstanbul, İstanbul Tıp Kitabevi, 2013.
Birol L. Hemşirelik Süreci. Hemşirelikle İlgili Kuramlar. İzmir, Etki Matbaacılık Yayıncılık Ltd. Şti. Genişletilmiş 5. Baskı, 2002.
Ay FA. Temel Hemşirelik. İstanbul, İstanbul Medikal Yayıncılık, 2008.
Schmieding NJ. Orlando's nursing process theory in nursing practice. In nursing theory: Utilization&Aplication. St.Louis: Mosby, 2002:315-37.
Abdoli S, Safavi SS. Nursing students' immediate responses to distressed clients based on Orlando's theory. Iranian Journal of Nursing and Midwifery Research. 2010;15(4):178-184.
https://www.currentnursing.com/. Current Nursing. Orlando's Nursing Process Theory [Cited 18 november 2021]. Available from: http://currentnursing.com/nursing_theory/Orlando_nursing_process.html.
Karaca S. Hemşireler için vazgeçilmez bir kavram: Kendini tanıma. Maltepe Üniversitesi Hemşirelik Bilim ve Sanatı Dergisi. 2010;3(1):79-84.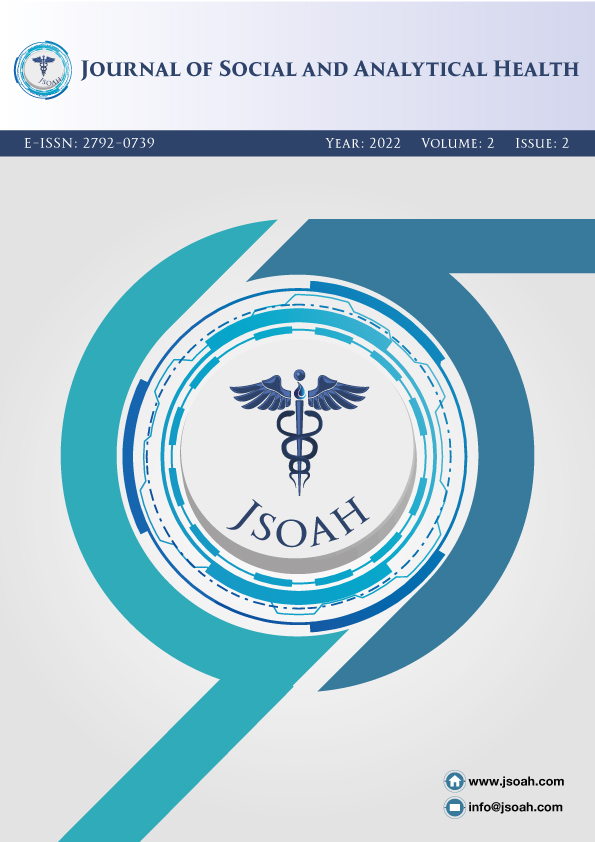 Downloads
How to Cite
Inan Kirmizigul, E., Karatas Baran, G. ., & Sahin, S. (2022). Communication with infertile women who failed treatment: "An examination of Orlando according to interaction theory": Theory-based care for the infertile woman. Journal of Social and Analytical Health, 2(2), 142–147. https://doi.org/10.5281/zenodo.6770008
License
Copyright (c) 2022 Journal of Social and Analytical Health
This work is licensed under a Creative Commons Attribution-NonCommercial 4.0 International License.