Does the smartphone addiction affect the neck disability, hand functions, and physical activity?
Keywords:
Addiction, Hand, physical activity, smartphone
Abstract
Aim: Smartphone has become an important tool in our stay-at-home mandates and quarantine days related to the pandemic. The aim of this study is to compare the neck disability, hand functionality and physical activity levels between smartphone addicts and non-addicted users. Materials-Methods: A total of 227 volunteer participants were included in this web-based study. Participants were separated into two groups as smartphone addictive (n=105) and non-addictive groups (n=122).  Neck disability, hand functions, and physical activity levels were assessed with Neck Disability Index, Michigan Hand Questionnaire, and International Physical Activity Questionnaire, respectively, in both groups. Results: Significant differences were found between smartphone addicted and non-addicted groups (p<0.05). The addicted group had higher neck disability scores (p<0.05) and lower hand functionality (p<0.05), and lower physical activity levels than non-addicted groups(p<0.05). Conclusions: This study showed that smartphone-addicted younger adults were more likely to have problems in the cervical region, hand functionality and physical inactivity symptoms during online learning.
References
Esentürk OK, Yarımkaya E. WhatsApp-based physical activity intervention for children with autism spectrum disorder during the novel coronavirus (covid-19) pandemic: A feasibility trial. Adapt Phys Activ Q. 2021; 38(4): 1-16.
Lepp A, Barkley JE, Karpinski AC. The relationship between cell phone use and academic performance in a sample of US college students. Sage Open. 2015; 5(1): 1-9.
Elhai JD, Yang H, McKay D, Asmundson GJ. Covid-19 anxiety symptoms associated with problematic smartphone use severity in Chinese adults. J Affect Disord. 2020; 274: 576-582.
Zhou L. Experimental study on the intervention of aerobic exercise on college students' mobile phone dependence. Shaolin Taiji. 2015; 7:47-51.
Noyan CO, Darcin AE, Nurmedov S, Yilmaz O, Dilbaz N. Validity and reliability of the Turkish version of the smartphone addiction scale-short version among university students. J Anadolu Psychol. 2015; 16(1):73-82.
Demirbilek M, Minaz M. The relationship between physical activity and smart phone use in university students. J Education Sci Environment Health. 2020;6(4): 282-296.
Betsch M, Kalbhen K, Michalik R, Schenker H, Gatz M, Quack V, et al. The influence of smartphone use on spinal posture–A laboratory study. Gait Posture. 2021; 85(1): 298-303.
Özdil K, Çatıker A, Bulucu Büyüksoy G. D. Smartphone addiction and perceived pain among nursing students: a cross-sectional study. Psychol, Health & Medi. 2021: 1-15.
Mustafaoglu R, Yasaci Z, Zirek E, Griffiths M. D, Ozdincler A. R. The relationship between smartphone addiction and musculoskeletal pain prevalence among young population: a cross-sectional study. Korean J Pain. 2021;34(1):72-81.
Zhuang L, Wang L, Xu D, Liang R. Association between excessive smartphone use and cervical disc degeneration in young patients suffering from chronic neck pain. J Orthop Sci. 2021; 26(1):110-115.
Canaria J. L, Croox J. B, Dayao A. H, Macatangay J. R, Vinluan R, Mariano L. Ergonomic risk assessment for the prolonged usage of smartphones on students. international conference on applied human factors ergonomics.Springer, USA, 2018.
Xie Y. F, Szeto G, Madeleine P, Tsang S. Spinal kinematics during smartphone texting–a comparison between young adults with and without chronic neck-shoulder pain. Appl Ergon. 2018;68(1):160-168.
Szeto G. P, Tsang S. M, Dai J, Madeleine P. A field study on spinal postures and postural variations during smartphone use among university students. Appl Ergon. 2020. doi: 10.1016/j.apergo.2020.103183
Kwon M, Lee J.Y, Won W.Y, Park J. W, Min J. A, Hahn C,et al. Development and validation of a smartphone addiction scale (SAS). Plos One. 2013; 8(2): 1-7.
Vernon H, Mior S. The Neck Disability Index: a study of reliability and validity. J Manipulative Physiol Ther. 1991; 14(7): 409-415.
Aslan E, Karaduman A, Yakut Y, Aras B, Simsek I. E, Yaglı, N. The cultural adaptation, reliability and validity of neck disability index in patients with neck pain: a Turkish version study. Spine. 2008;33(11): 362-365.
Chung KC, Pillsbury MS, Walters MR, Hayward RA. Reliability and validity testing of the Michigan Hand Outcomes Questionnaire. J Hand Surg. 1998;23(4): 575-587.
Öksüz Ç, Akel B. S, Oskay D, Leblebicioğlu G, Hayran K. M. Cross-cultural adaptation, validation, and reliability process of the michigan hand outcomes questionnaire in a Turkish population. J Hand Surg. 2011; 36(3): 486-492.
Craig CL, Marshall AL, Sjöström M, Bassett DR, Sjöström M, Bauman AE. International physical activity questionnaire: 12-country reliability and validity. Medi Sci In Sports Exer. 2003;35(8): 1381-1395.
Saglam M, Arikan H, Savcı S, Inal D, Bosnak M, Karabulut E, et al. International physical activity questionnaire: reliability and validity of the Turkish version. Percept Mot Skills. 2010; 111(1):278-284.
Cohen J. Statistical Power Analysis For The Behavioral Sciences. Lawrence Erlbaum Associates. Hillsdale, New Jersey, 1988.
Berolo S, Wells R. P, Amick B. C. Musculoskeletal symptoms among mobile hand-held device users and their relationship to device use: a preliminary study in a Canadian university population. Applied Ergo. 2011;42(2):371-378.
Kumcağız H, Terzi Ö, Koç B, Terzi, M. Üniversite öğrencilerinde akıllı telefon bağımlılığı. Soc Sci Res. 2020; 9(1):13-39.
Lee J, Cho B, Kim Y, Noh J. Smartphone addiction in university students and its implication for learning Emerging issues in smart learning. Springer. 2015, 297-305.
Aljomaa SS, Qudah MFA, Albursan IS, Bakhiet SF, Abduljabbar AS. Smartphone addiction among university students in the light of some variables. Comput Human Behav. 2016; 61:155-164.
Demirci K, Akgönül M, Akpinar A. Relationship of smartphone use severity with sleep quality, depression, and anxiety in university students. J Behav Addict. 2015; 4(2): 85-92.
AlAbdulwahab S. S, Kachanathu S. J, AlMotairi M. S. Smartphone use addiction can cause neck disability. Musculoskeletal Care. 2017;15(1): 10-12.
Bertozzi L, Negrini S, Agosto D, Costid S, Anthony A. Piergiorgio G, et al. Posture and time spent using a smartphone are not correlated with neck pain and disability in young adults: A cross-sectional study. J Bodywork Movement Ther. 2021; 26(1): 220-226.
Radwan NL, Ibrahim MM, Mahmoud WSED. Evaluating hand performance and strength in children with high rates of smartphone usage: an observational study. J Phys Ther Sci. 2020;32(1): 65-71.
Baabdullah A, Bokhary D, Kabli Y, Saggaf O, Daiwali M, Hamdi A. The association between smartphone addiction and thumb/wrist pain: A cross-sectional study. Medicine. 2020;99(10): 1-5.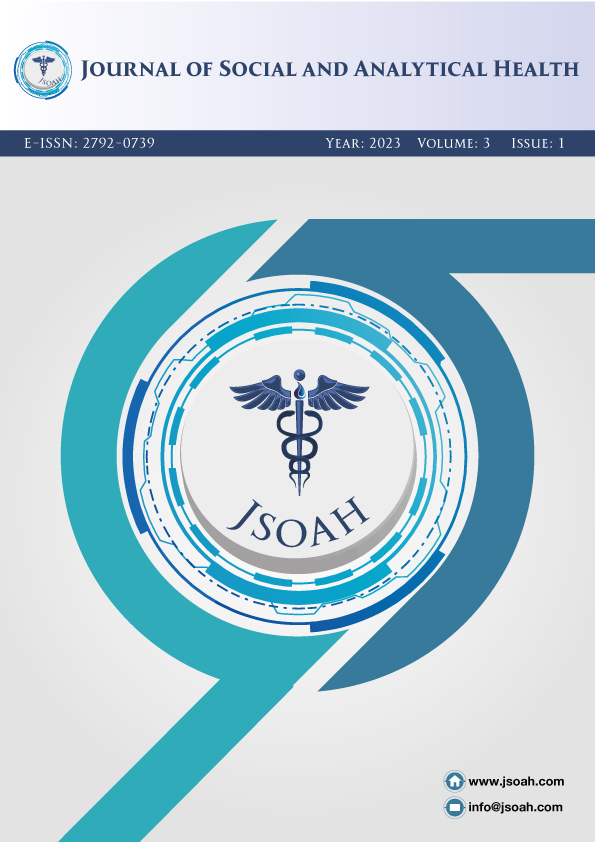 Downloads
How to Cite
Yildirim Sahan, T., Turker, D., & Ulusahin, S. (2023). Does the smartphone addiction affect the neck disability, hand functions, and physical activity?. Journal of Social and Analytical Health, 3(1), 56–61. https://doi.org/10.5281/zenodo.7564382
Section
Orijinal Articles
License
Copyright (c) 2022 Journal of Social and Analytical Health
This work is licensed under a Creative Commons Attribution-NonCommercial 4.0 International License.