The prevalence of vertigo, non-vertiginous dizziness and migrainous vertigo in migraine patients
Keywords:
Migraine, Vertigo, Migrainous Vertigo, Prevalence
Abstract
Aim: Aim of this study was to investigate the prevalence of vertigo and non-vertiginous dizziness in migraine patients compared to the control group and to define lifetime prevalence of migrainous vertigo.
Materials and Methods: A total of 206 patients diagnosed with migraine according to the International Headache Society (2004) and 218 healthy individuals were included in this study.
Results: Vertiginous symptoms were found in migraine patients by 65.5% and in the control group by 30.3% (p=0.000). Rate of the patients who met 2001 vertiginous migraine criteria was found as 30% and 2012 criteria was found 26%. Vertiginous symptoms revealed independently
from headache in majority of the patients and were found to be more common in the patients having migraine with aura. Conclusions: Our results seems to support the results of previous studies which indicated that lifetime prevalence of migrainous vertigo was high in migraine patients.
References
Ashina M, Katsarava Z, Do TP, Buse DC, Pozo-Rosich P, Özge A, et al. Migraine: epidemiology and systems of care. Lancet (London, England). 2021;397(10283):1485–1495.
Stewart WF, Roy J, Lipton RB. Migraine prevalence, socioeconomic status, and social causation. Neurology. 2013;81(11):948–955.
O'Connell Ferster AP, Priesol AJ, Isildak H. The clinical manifestations of vestibular migraine: A review. Auris Nasus Larynx. 2017;44(3):249–252.
Sheeler RD, Garza I, Vargas BB, O'Neil AE. Chronic daily headache: ten steps for primary care providers to regain control. Headache. 2016;56(10):1675–1684.
Udagatti VD, Dinesh Kumar R. Migraine Related Vertigo. Vol. 69, Indian journal of otolaryngology and head and neck surgery : official publication of the Association of Otolaryngologists of India. 2017.
Luzeiro I, Luís L, Gonçalves F, Pavão Martins I. Vestibular migraine: clinical challenges and opportunities for multidisciplinarity. Behav Neurol. 2016;2016:6179805.
Neuhauser H, Leopold M, von Brevern M, Arnold G, Lempert T. The interrelations of migraine, vertigo, and migrainous vertigo. Neurology. 2001;56(4):436–441.
Lempert T, Olesen J, Furman J, Waterston J, Seemungal B, Carey J, et al. Vestibular migraine: diagnostic criteria. J Vestib Res. 2012;22(4):167–172.
Headache Classification Committee of the International Headache Society (IHS) The international classification of headache disorders, 3rd edition. Cephalalgia. 2018;38(1):1–211.
Dieterich M, Obermann M, Celebisoy N. Vestibular migraine: the most frequent entity of episodic vertigo. J Neurol. 2016;263 Suppl:S82-89.
Murofushi T, Tsubota M, Kitao K, Yoshimura E. Simultaneous Presentation of definite vestibular migraine and definite ménière's disease: overlapping syndrome of two diseases. Front Neurol. 2018;9:749.
Kayan A, Hood JD. Neuro-otological manifestations of migraine. Brain. 1984;107(4):1123–1142.
Kuritzky A, Ziegler DK, Hassanein R. Vertigo, motion sickness and migraine. Headache. 1981;21(5):227–231.
Savundra PA, Carroll JD, Davies RA, Luxon LM. Migraine-associated vertigo. Cephalalgia. 1997;17(4):505–510.
Neuhauser HK, Radtke A, von Brevern M, Feldmann M, Lezius F, Ziese T, et al. Migrainous vertigo: prevalence and impact on quality of life. Neurology. 2006;67(6):1028–1033.
Vuković V, Plavec D, Galinović I, Lovrencić-Huzjan A, Budisić M, Demarin V. Prevalence of vertigo, dizziness, and migrainous vertigo in patients with migraine. Headache. 2007;47(10):1427–1435.
Baloh RW. Vestibular Migraine i: mechanisms, diagnosis, and clinical features. Semin Neurol. 2020;40(1):76–82.
Shen Y, Qi X, Wan T. The Treatment of Vestibular migraine: a narrative review. Ann Indian Acad Neurol. 2020;23(5):602–607.
Abouzari M, Goshtasbi K, Moshtaghi O, Tan D, Lin HW, Djalilian HR. Association between vestibular migraine and migraine headache: yet to explore. Otol Neurotol. 2020;41(3):392–396.
Cha Y-H, Lee H, Santell LS, Baloh RW. Association of benign recurrent vertigo and migraine in 208 patients. Cephalalgia. 2009;29(5):550–555.
Beh SC. Vestibular Migraine: how to sort it out and what to do about it. J Neuro-Ophthalmology. 2019;39(2):208–219.
Helm MR. Vestibulo-ocular reflex abnormalities in patients with migraine. Headache. 2005;45(4):332–336.
Neff BA, Staab JP, Eggers SD, Carlson ML, Schmitt WR, Van Abel KM, et al. Auditory and vestibular symptoms and chronic subjective dizziness in patients with Ménière's disease, vestibular migraine, and Ménière's disease with concomitant vestibular migraine. Otol Neurotol. 2012;33(7):1235–1244.
Yu J, Yu Q, Guan B, Lu Y, Chen C, Yu S. Pseudo-Benign paroxysmal positional vertigo: a retrospective study and case report. Front Neurol. 2020;11:187.
von Brevern M, Radtke A, Clarke AH, Lempert T. Migrainous vertigo presenting as episodic positional vertigo. Neurology. 2004;62(3):469–472.
Akarsu EO, Baykan B, Ertaş M, Zarifoğlu M, Kocasoy Orhan E, Saip S, et al. Sex Differences of migraine: results of a nationwide home-based study in Turkey. Noro Psikiyatr Ars. 2020;57(2):126–130.
Kim SK, Hong SM, Park I-S, Choi HG. Association between migraine and benign paroxysmal positional vertigo among adults in South Korea. JAMA Otolaryngol Head Neck Surg. 2019;145(4):307–312.
Salmito MC, Morganti LOG, Nakao BH, Simões JC, Duarte JA, Ganança FF. Vestibular migraine: comparative analysis between diagnostic criteria. Braz J Otorhinolaryngol. 2015;81(5):485–490.
Cromwell C, Tyler J, Nobbs R, Hockaday A, Donnelly S, Clendaniel R. The Necessity for Post-maneuver restrictions in the treatment of benign paroxysmal positional vertigo: an updated meta-analysis of the literature. Otol Neurotol. 2018;39(6):671–679.
Bayazit Y, Yilmaz M, Mumbuç S, Kanlikama M. Assessment of migraine-related cochleovestibular symptoms. Rev Laryngol Otol Rhinol (Bord). 2001;122(2):85–88.
Sunitha M, Asokan L, Sambandan AP. Vertigo: Incidences, diagnosis and its relations with hearing loss. Indian J Otolaryngol Head Neck Surg. 2019;71(Suppl 2):1282–1286.
Cherian N. Vertigo as a migraine phenomenon. Curr Neurol Neurosci Rep. 2013;13(4):343.
Furman JM, Marcus DA, Balaban CD. Migrainous vertigo: development of a pathogenetic model and structured diagnostic interview. Curr Opin Neurol. 2003;16(1):5–13.
Radtke A, Lempert T, Gresty MA, Brookes GB, Bronstein AM, Neuhauser H. Migraine and ménière's disease: is there a link? Neurology. 2002;59(11):1700–1704.
Oman CM, Cullen KE. Brainstem processing of vestibular sensory exafference: implications for motion sickness etiology. Exp Brain Res. 2014;232(8):2483–2492.
Lackner JR. Motion sickness: more than nausea and vomiting. Exp Brain Res. 2014;232(8):2493–2510.
Drummond PD. Motion sickness and migraine: optokinetic stimulation increases scalp tenderness, pain sensitivity in the fingers and photophobia. Cephalalgia. 2002;22(2):117–24.
Drummond PD. Triggers of motion sickness in migraine sufferers. Headache. 2005;45(6):653–6.
Espinosa-Sanchez JM, Lopez-Escamez JA. New insights into pathophysiology of vestibular migraine. Front Neurol. 2015;6:12.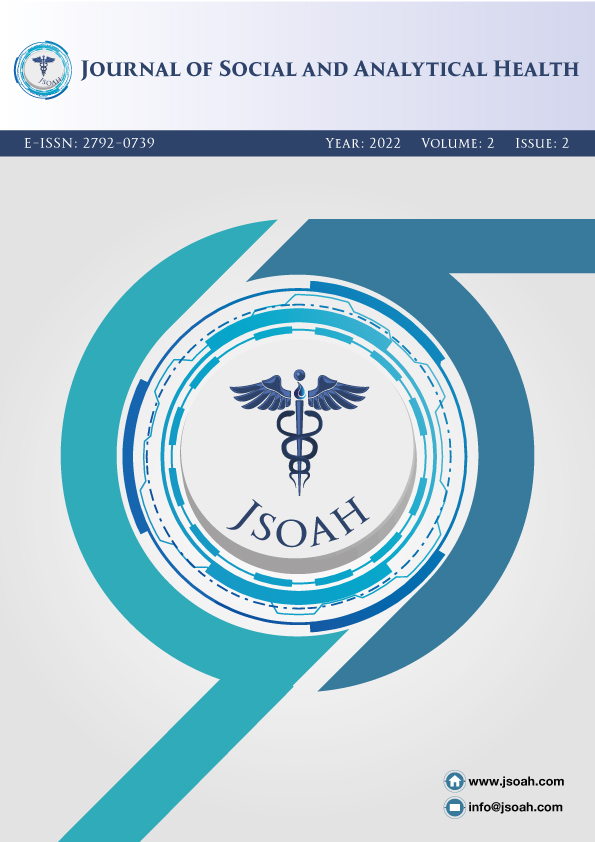 Downloads
How to Cite
Eruyar, E., & Genc, E. (2022). The prevalence of vertigo, non-vertiginous dizziness and migrainous vertigo in migraine patients. Journal of Social and Analytical Health, 2(2), 90–96. https://doi.org/10.5281/zenodo.6769247
Section
Orijinal Articles
License
Copyright (c) 2022 Journal of Social and Analytical Health
This work is licensed under a Creative Commons Attribution-NonCommercial 4.0 International License.