Results of five year-follow up of patients treated with loop electosurgical excisional procedure / cold-knife conization
Keywords:
LEEP, Cold-Knife Conization, CIN
Abstract
Aim: Aim is to put forth the recurrence rate of Human Papilloma Virus (HPV) and cervical pathology after five year- follow up of patients treated with Loop Electosurgical Excisional Procedure (LEEP)/Cold-Knife Conization due to cervical intraepithelial neoplasia (CIN) so as to determine the competence of the surgical procedures.
Materials and Methods: Retrospective analysis of 87 patients who attended between January 2011-December 2015, aged between 24-74 years, with the result of CIN I - II - III in their Pap smear tests, were enrolled.
Demographic findings; age, parity, smoking, menopausal statue were recorded. The patients treated with LEEP/Cold-Knife Conization due to CIN I - II - III, were followed by co-test till 2020 and 5 year results were evaluated.
Results: 87 patients were analyzed and the mean age of them was 35.1±1.71 (24-74), parity 2.4±1.2 (0-11) and mean smoking was found to be 8 cigarettes/day (0-40/day). 67(77%) of cases were in premenapouse, 20 (23%) of them were in postmenapousal period. According to the colposcopy assisted cervical biyopsy results 45 (51.7%) cases were diagnosed as CIN I, 21 (24.1%) CIN II and rest 21 (24.1%) cases were found to be CIN III. Secondary surgery was needed due to positive surgical margin was recorded in 6 (6.8%) patients after LEEP.  Routine annual follow-up was done. No abnormal cytologic Pap-smear result was recorded during these follow-ups. At the end of the 5 year follow-up; no reccurence was obtained from the co-test results.
Conclusion: Our results put forth that HPV and cervical pathology could be eradicated after five year- follow up of patients treated with LEEP/Cold-Knife Conization if appropriate indications and techniques are applied.  
References
Fidler MM, Bray F, Soerjomataram I. The global cancer burden and human development: A review. Scand J Public Health. 2018;46:27-36.
Stewart LK, Smoak P, Hydock DS, Hayward R, O'brien K, Lisano JK. et al. Milk and kefir maintain aspects of health during doxorubicin treatment in rats. J Dairy Sci. 2019;102:1910–1917.
Bray F, Ferlay J, Soerjomataram I, Siegel RL, Torre LA, Jemal A. Global cancer statistics 2018: GLOBOCAN estimates of incidence and mortality worldwide for 36 cancers in 185 countries. Cancer J Clin. 2018;68:394-424.
Practice Bulletin No. 168: cervical cancer screening and prevention. Obstet Gynecol. 2016;128(4):e111-e130.
Demirkiran F, Kahramanoglu I, Turan H, Yilmaz N, Yurtkal A Meseci E et al. See and treat strategy by LEEP conization in patients with abnormal cervical cytology. Ginekol Pol. 2017;88:349-354.
McCredie MRE, Sharples KJ, Paul C, Baranyai J, Medley G, Jones RW et al. Natural history of cervical neoplasia and risk of invasive cancer in women with cervical intraepithelial neoplasia 3: a retrospective cohort study. Lancet Oncol. 2008;9:425-434.
Erdoğdu IH. Comparison of the pathological materials with HPV results in patients with molecular HPV. Dicle Med J. 2019;46(1):167-172
Kurt AS, Canbulat N, Savaşer S. Adölesan dönem cinselliğiyle öne çıkan serviks kanseri ve risk faktörleri. Bakırköy Tıp Dergisi. 2013;9:59-63.
Munro A, Leung Y, Spilsbury K, Stewart CJ, Semmens J, Codde J, Williams V, O'Leary P, Steel N, Cohen P. Comparison of cold knife cone biopsy and loop electrosurgical excision procedure in the management of cervical adenocarcinoma in situ: What is the gold standard? Gynecol Oncol. 2015;137(2):258-263.
Lili E, Chatzistamatiou K, Kalpaktsidou-Vakiani A, Moysiadis T, Agorastos T. Low recurrence rate of high-grade cervical intraepithelial neoplasia after successful excision and routine colposcopy during follow-up. Medicine (Baltimore). 2018;97(4):e9719.
Kim JH, Park JY, Kim DY. The role of loop electrosurgical excisional procedure in the management of adenocarcinoma in situ of the uterine cervix. Eur J Obstet Gynecol Repr Biol. 2009;145:100-103.
Zhang W, Gong X, Wu Q, Liu Y, Lao G, Xiao J et al. The clearance of high-risk human papillomavirus is sooner after thin loop electrosurgical excision procedure (t-LEEP). Journal of Investigative Surgery. 2019;32:560-565.
Tan JHJ, Malloy MJ, Thangamani R, Gertig D, Drennan KT, Wrede CD, Saville M, Quinn M. Management and long-term outcomes of women with adenocarcinoma in situ of the cervix: A retrospective study. Aust N Z J Obstet Gynaecol. 2020;60(1):123-129.
Günay T, Yardımcı OD, Hocaoğlu M, Sandal K, Şelendir H. First year evaluation of negative cervical conizations performed for various reasons in a tertiary center. Bosphorus Medical Journal 2018;5:577-580.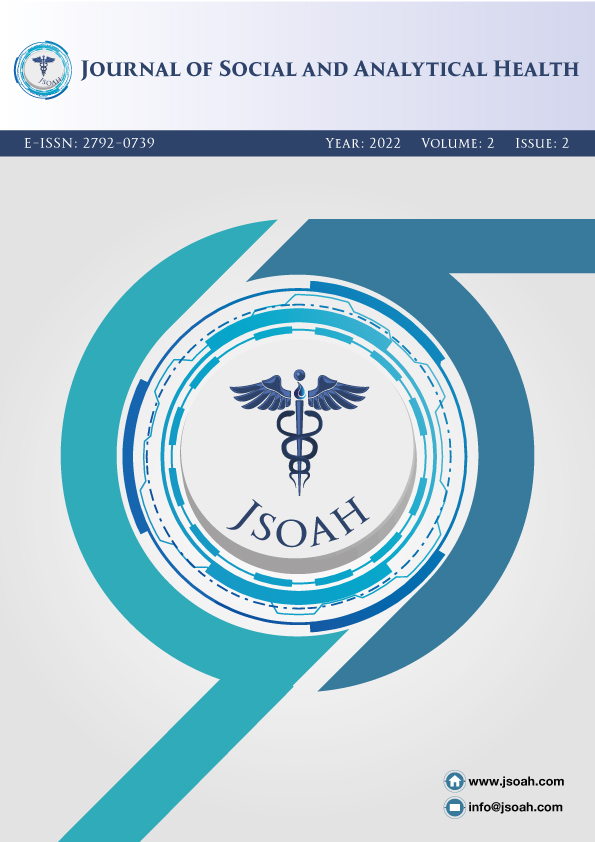 Downloads
How to Cite
Ozgur Gürsoy, O., Gurer, H. G., & Yildiz Eren, C. . (2022). Results of five year-follow up of patients treated with loop electosurgical excisional procedure / cold-knife conization. Journal of Social and Analytical Health, 2(2), 97–100. https://doi.org/10.5281/zenodo.6769343
Section
Orijinal Articles
License
Copyright (c) 2022 Journal of Social and Analytical Health
This work is licensed under a Creative Commons Attribution-NonCommercial 4.0 International License.