Measuring and attitudes of university students toward human papilloma virus-related cervical cancer prevention
Keywords:
Human papillomavirus infection, Cervical Cancer, University Students
Abstract
Aim: Our research was carried out to determine the knowledge and attitudes of university students about cervical cancer, human papilloma virus (HPV) infection and vaccine.
Materials and Methods: In the 2018-2019 academic year, the research population consisted of 178 female students who studied at Hatay Mustafa Kemal University, Vocational School of Health Services. Students completed a form that included socio-demographic information as well as questions about HPV infection, vaccination, and Attitude Scale Towards Preventing Cervical Cancer (ASTPCC). For the analysis of the data, percentage, mean, T-test, One-Way ANOVA test and Tukey test were used. Significance level was taken as 0.05.
Results: Of the female students included in the study, 171 (96%) people between the ages of
18-25 and 7 (4%) people between the ages of 26-32 were recorded. 94% of participants said that HPV is a risk factor for cervical cancer, 92% said that HPV is transmitted through sexual contact, 87% said that the HPV vaccine protects against cervical cancer, 19% said that the HPV vaccine should be applied before the first sexual activity, and 9% said that regular pap smear tests should be performed even if they have received the HPV vaccine. While of the students, 36% had no knowledge about HPV-associated cervical cancer, 30% had no knowledge pap-smear test.
Conclusion: Female students at university should be aware of HPV infection, HPV-associated cervical cancer, pap-smear test, and vaccination. Developing healthy lifestyle habits during university education is essential.
References
1. World Health Organization. Cervical cancer. Erişim [https://www.who.int/news-room/fact-sheets/detail/cervical-cancer]. 2022.
Ersin F, Kıssal A, Polat P, Koca BD, Erdogan M. Perception of female medical personnel toward cervical cancer and the affecting factors. Turk J Res Dev Nurs. 2016;18(2-3):31–43.
Sencan I, Keskinkilic B. Cancer statistics in Turkey. Ankara, T. C. Ministry of Health, Public Health Agency of Turkey December 12, 2018.
Kumar RV, Bhasker S. Potential opportunities to reduce cervical cancer by addressing risk factors other than HPV. J Gynecol Oncol. 2013; 24(4):295–297.
Koç Z, Özdeş EK, Topatan S, Çinarli T, Şener A, Danaci E, et al. The impact of education about cervical cancer and human papillomavirus on women's healthy lifestyle behaviors and beliefs: using the PRECEDE educational model. Cancer Nurs. 2019;42(2):106–118.
Ghim S, Basu PS, Jenson AB. Cervical cancer: etiology, pathogenesis, treatment, and future vaccines. Asian Pac J Cancer Prev. 2012; 30(3): 207–214.
Güvenç G, Akyüz A, Seven M. Determination of the knowledge and attitudes of nursing students about human papillomavirus infection and its vaccines. Gülhane Med J. 2012;54:104–110.
Aydoğdu SGM, Özsoy Ü. Serviks kanseri ve HPV. Androl Bul. 2018; 20:25−29.
Kurtoğlu E, Alpergürz A. Cervical cancer epidemiology. Turkiye Klinikleri J Gynecol Obst Special Topics. 2014; 7(4):1–4.
FDA approves expanded use of Gardasil 9 to include individuals 27 through 45 years old. Erişim [https://www.fda.gov/news-events/press-announcements/fda-approves-expanded-use-gardasil-9-include-individuals-27-through-45-years-old].
World Health Organization. New guidance for the prevention and control of cervical cancer. Erişim [http://www.who.int/reproductivehealth/topics/cancers/en/]. 2020.
Kops NL, Hohenbergera GF, Bessel M, Correia Horvath JD, Domingues C, Kalume Maranhão AG,et al. Knowledge about HPV and vaccination among young adult men and women. Results of a national survey. Papillomavirus Res. 2019; 7:123–128.
Shetty MK, Longatto-Filho A. Early detection of breast, cervical, ovarian and endometrial cancers in low resource countries: an integrated approach. Indian J Surg Oncol. 2011; 2(3):165–171.
Koyun A, Dadak A. Evaluatin of attitudes towards early detection of cervical cancer. 3rd International contemporary Educational Research Congress. July 05-08, 2018; 380-389.
Aceijas C, Waldhäusl S, Lambert N, Cassar S, Bello-Corassa R. Determinants of health-related lifestyles among university students. Perspect Public Health. 2017; 137(4):227–236.
Tosun H, Gul A, Yazici S. Survey on the knowledge level and attitudes of university students about human papilloma virus infection and vaccination and assessing healthy living behaviors. Journal of Public Health: From Theory to Practice. 2022; 30:273–280
Makwe CC, Anorlu RI. Knowledge of and attitude toward human papillomavirus infection and vaccines among female nurses at a tertiary hospital in Nigeria. Int J Women's Health. 2011; 3: 313–317.
Khan TM, Buksh MA, Rehman IU, Saleem A. Knowledge, attitudes, and perception towards human papilloma virus among university students in Pakistan. Papillomavirus Res. 2016;2:122–127.
Villanueva S., Miguéns DGM., Domínguez EM, López-Ares D, Novío S. Knowledge, attitudes, and intentions towards human papilloma virus vaccination among nursing students in Spain. Int J Environ Res Public Health. 2019; 16(22): 4507.
Clifford GM, Smith JS, Plummer M, Munoz N, Franceshi S. Human papilloma virus types in invasive cervical cancer worldwide: A meta-analysis. British Journal of Cancer .2003;88(1):63-73.
Kling M, Zeichner JA. The role of the human papilloma virus (HPV) vaccine in developing countries. International Journal of Dermatology. 2010;49(4):377- 379.
Akça SÖ, Selen F, Büyükgönenç L. Information levels of nurses regarding human papillomavirus (HPV) infection and HPV vaccines: an education and research hospital sample. Turk J Res Dev Nurs. 2016; 13(2):116–121.
Karaca M, Palancı Y, Aksu S. Pap smear ne kadar biliniyor ne kadar uygulanıyor? Türkiye Klinikleri Jinekoloji Obstetrik Dergisi. 2008; 18:22-28.
Ogbonna FS. Knowledge, attitude and experience of cervical cancer and screening. Annals of African Medicine. Ann Afr Med. 2017;16(1):18-23.
Dhendup T, Pandup T. Cervical cancer knowledge and screening behaviors among female university graduates of year 2012 attending national graduate orientation program, Bhutan. BMC Women's Health. 2014;14(1):1–7.
Hoque E, Hoque M. Knowledge of and attitude towards cervical cancer among female university students in South Africa. South Afr J Epidemiol Infect. 2009; 24(1):21–24.
Gökgöz, N, Aktaş D. Kadınların serviks kanseri ve pap smear testi yaptırma durumlarına yönelik farkındalık düzeylerinin belirlenmesi. Yıldırım Beyazıt Üniversitesi Sağlık Bilimleri Fakültesi Hemşirelik E-Dergisi. 2015;3(2):11-23.
Türkol E, Güneş G, Özen G, Omaç M. Kadınların serviks kanseri, pap smear ve HPV aşısı hakkında bilgi tutum ve davranışları. New World Sciences Academy. 2009;4(3): 67-74.
Gümüş A, Çam O. Kadınların serviks kanseri için erken tanı tutumları ile benlik saygısı, beden algısı ve umutsuzluk düzeyleri arasındaki ilişkiler. Nobel Med. 2011;7(3): 46-52.
Güder S, Güder H. Investigation of the knowledge and attitudes of health care personnel about HPV vaccination: A Cross-Sectional Study. Turkiye Klinikleri J Dermatol. 2022;32(1):37-46.
Özbakır Acar N, Özşahin A, Edirne T. Knowledge and attitudes of primary health care workers about cervical cancer and HPV vaccine. Pam Med J. 2019; 12:457-466.
Cömert EÇ. İnsan papilloma virüs deneyimlerimiz. J Soc Anal Health. 2022; 2(2): 73-77.
Wellensiek N, Moodley M, Moodley J, Nkwanya N. Knowledge of cervical cancer screening and use of cervical screening facilities among women from various socioeconomic backgrounds in Durban, Kwazulu Natal, South Africa. International Journal of Gynecological Cancer. 2002;12(4):376-382.
Ak M, Canbal M, Turan S. Gürbüz N. Aile hekimliği polikliniğine başvuran kadınlarda pap smear testinin farkındalığının değerlendirilmesi. Konuralp Tıp Dergisi. 2010; 2(2): 1-4.
Uluocak T, Bekar M. Kadın sağlık çalışanlarının servikal kansere ilişkin bilgi ve tutumlarının belirlenmesi. Türk Jinekolojik Onkoloji Dergisi. 2012;15(2):50-57.
Gakidou E, Nordhagen S, Obermeyer Z. Coverage of cervical cancers careening in 57 countries: low average levels and large inequalities. PLoSMed. 2008; 5: 132.
Good Ak. Cigarette smoking and cervical cancer: meta-analysis and critical review of recent studies. Am J Prev Med. 1991;7:208-213.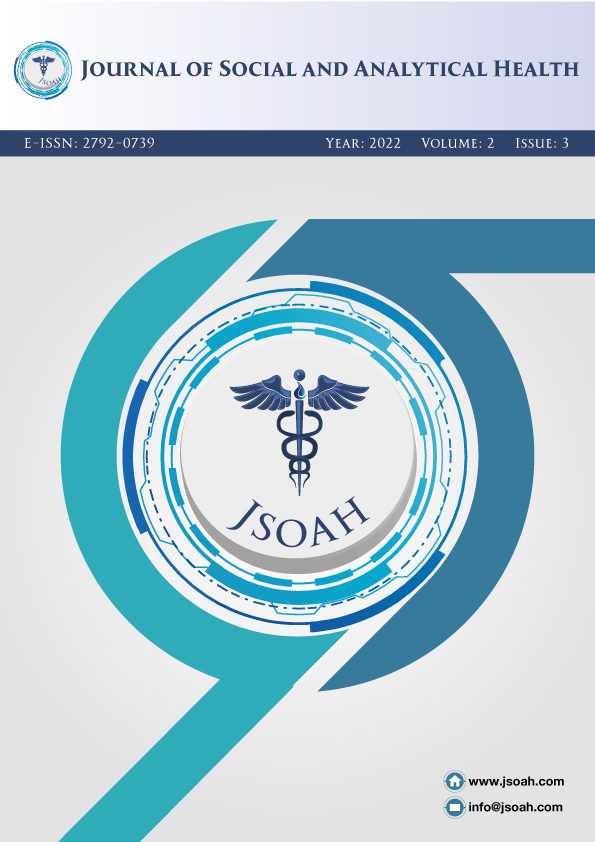 Downloads
How to Cite
Onlen Guneri, C., Dadak, A., & Kucuk, İlyas. (2022). Measuring and attitudes of university students toward human papilloma virus-related cervical cancer prevention. Journal of Social and Analytical Health, 2(3), 269–277. https://doi.org/10.5281/zenodo.7107030
Section
Orijinal Articles
License
Copyright (c) 2022 Journal of Social and Analytical Health
This work is licensed under a Creative Commons Attribution-NonCommercial 4.0 International License.