Violence against halthcare workers
Abstract
Sayın editör;
Sağlık-Sen tarafından yayınlanan "Sağlık-Sen Kasım Ayı Şiddet Raporu, 2021"i üzüntüyle okudum. Raporda 2021 yılı kasım ayı içerisinde 17 şiddet vakasının görüldüğü ve bu olayların ikisinin sözlü, geri kalanının sözlü-fiili şiddet içerdiğini öğrendim. Ayrıca bu olaylarda 26 saldırganın 25 sağlık çalışanını mağdur etmesine rağmen saldırganlardan sadece ikisinin tutuklandığını,  13'ünün herhangi bir adli işleme bile tabi tutulmadığını hayretler içerisinde okudum (1). Bu rapor ile sahadaki durumu net bir şekilde ortaya koymasından ötürü Sağlık-Sen'e teşekkür ederim. Bununla birlikte konuya katkı sağlayacak birkaç noktaya değinmek istiyorum.
Şiddet, bir kişinin başka kişi ya da gruplara öldürmeye de varabilecek düzeyde zarar vermek amacıyla davranışta bulunması olup (2), Dünya Sağlık Örgütü tarafından halk sağlığı sorunu olarak nitelendirilmiştir (3). Sağlık çalışanlarının şiddete maruz kalma durumlarının diğer hizmet alanlarına göre 16 kat daha fazla olduğu bilinmekle birlikte (4), maalesef Türkiye'de de sağlık çalışanlarına yönelik şiddet gerçek bir olgudur. Ülkemizde kamuda ya da özel sektörde görev yapan sağlık çalışanlarıyla yürütülen bir çalışmada, katılımcıların %20'sinin meslekleri boyunca hasta ya da hasta yakınları tarafından şiddete maruz bırakıldıkları bulunmuştur (5). Pandemi koşullarında fedakâr bir şekilde hizmet sunan sağlık personellerinin bir de şiddete maruz bırakılarak fiziksel, duygusal ve sosyal yönden yıpratılmamasının ve dolayısıyla sağlık hizmetlerinin kaliteli ve kesintisiz verilebilmesinin hayati önem taşıdığını düşünmekteyim. Yaşanan bu şiddet olayları karşısında kesin ve ağır cezai yaptırımlar uygulanmadığı takdirde saldırgan kişileri caydıracak, sağlık personeline ise kendini güvende hissettirecek başka bir yöntemin olmadığını değerlendirmekteyim.
References
Sağlık-Sen. Sağlık-Sen Kasım Ayı Şiddet Raporu, 2021. Erişim adresi: http://www.sagliksen.org.tr/haber/10747/saglik-sen-kasim-ayi-saglikta-siddet-raporu-2021. Erişim tarihi: 15.12.2021.
Krug, EG. World Report on Violence and Health: Summary. World Health Organization, Geneva. 2002.
Dünya Sağlık Örgütü (WHO). Prevention of Violence: A Public Health Priority, 1996. Erişim adresi: http://www.who.int/violence_injury_ prevention/resources/publications/en/WHA4925_eng. pdf, Erişim tarihi: 10.12.2021.
Elliott, PP. Violence in health care. What nurse managers need to know. Nurs Manage. 1997;28(12): 38-41.
Uzuntarla Y, Canlan M, Uzuntarla F, Şahin B. Sağlık çalışanlarının beyaz kod bilgi düzeylerinin incelenmesi. Eurasian JHS. 2019;2(1):6-9.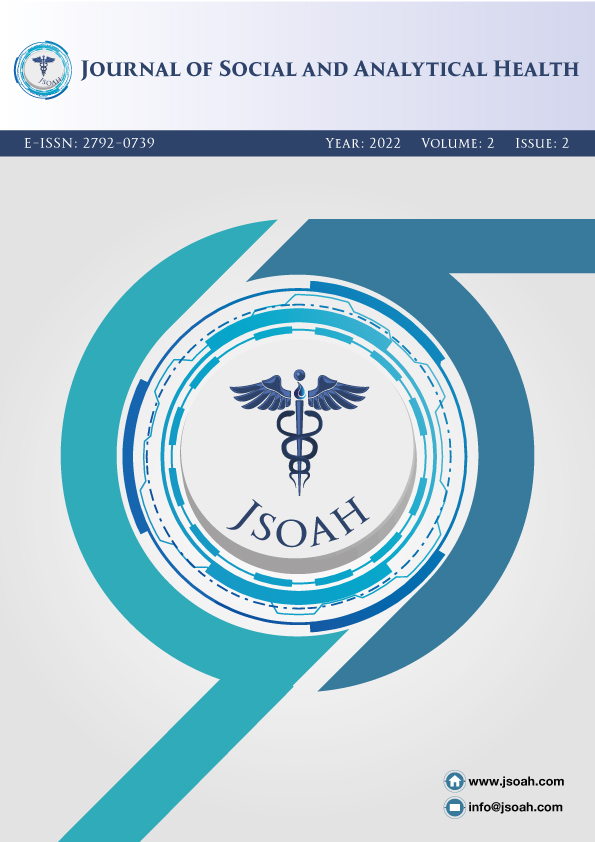 Downloads
How to Cite
Uzuntarla, F. (2022). Violence against halthcare workers. Journal of Social and Analytical Health, 2(2), 56. https://doi.org/10.5281/zenodo.6768505
License
Copyright (c) 2022 Journal of Social and Analytical Health
This work is licensed under a Creative Commons Attribution-NonCommercial 4.0 International License.