Remember/regeneration treatment method as a new holistic approach in patients with alopecia totalis: A case report
Keywords:
Alopecia Totalis,, Autoimmune Diseases, RTM, Holistic Medicine, Epigenetic
Abstract
Aim: Alopecia areata (AA) is an autoimmune disorder which is characterized with destruction of hair follicules. The disease manifests with patches of nonscarring in scalp or other hairy skin areas in varying severity clinically. The Remember/Regeneration Therapy Method (RTM) is a novel holistic medicine approach that targets physiopathological changes in quadruplet body structures, and includes various complementary methods such as acupuncture, ozone theapy and phytotherapy, etc. in different combinations which are determined depending on affected diseases.
Case Report: We present a case with alopecia totalis were successfully healed with the RTM therapy without a significant side effects.
Conclusions: RTM may provide consistent results for alopecia and similar many autoimmune diseases by using combinations of various holistic medicine methods in different doses, durations and sessions. The identification of epigenetically regulated genes related with autoimmune alopecia may be promising in order to develop epigenetic drugs for disease management.
References
Brzezinska-Wcislo L, Bergler-Czop B, Wcislo-Dziadecka D, et al. New aspects of the treatment of alopecia areata. Postep Dermatol Alergol 2014; 31: 262–265.
AC Villasante Fricke, M Miteva. Epidemiology and burden of alopecia areata: a systematic review. Clin. Cosmet. Invest. Dermatol. 2015;8: 397–403.
Simakou T, Butcher JP, Reid S, Henriquez FL. Alopecia areata: A multifactorial autoimmune condition. J Autoimmun. 2019; 98:74-85.
Kassira S, Korta DZ, Chapman LW, Dann F. Review of treatment for alopecia totalis and alopecia universalis. Int J Dermatol. 2017;56(8):801-810.
Yasar M. The Therapy protocol remember regeneration therapy method: an overview of new to approach diseases. J Complement Med Res. 2019;10(1):68-80.
Skinner MK. Role of epigenetics in developmental biology and transgenerational inheritance. Birth Defects Res C Embryo Today. 2011;93(1):51-55.
Sharma A. Systems genomics analysis centered on epigenetic inheritance supports development of a unified theory of biology. J Exp Biol. 2015; 218(Pt 21):3368-3373.
Holliday R. Epigenetics: A historical overview. Epigenetics. 2006; 1(2):76-80.
Fenoglio D, Bernuzzi F, Battaglia F, Parodi A, Kalli F, Negrini S, et al. Th17 and regulatory T lymphocytes in primary biliary cirrhosis and systemic sclerosis as models of autoimmune fibrotic diseases. Autoimmunity reviews. 2012; 2:300-304.
Romo-Tena J, Gomez-Martin D, Alcocer-Varela J. CTLA-4 and autoimmunity: new insights into the dual regulator of tolerance. Autoimmunity reviews. 2013; 12:1171-1176.
Torres IO, Fujimori DG. Functional coupling between writers, erasers and readers of histone and DNA methylation. Curr Opin Struct Biol. 2015; 35:68–75.
Yan N, Zhou JZ, Zhang JA, Cai T, Zhang W, Wang Y, et al. Histone hypoacetylation and increased histone deacetylases in peripheral blood mononuclear cells from patients with Graves' disease. Mol Cell Endocrinol. 2015; 414:143–147.
Liu Y, Liao J, Zhao M, Wu H, Yung S, Chan TM, et al. Increased expression of TLR2 in CD4(+) T cells from SLE patients enhances immune reactivity and promotes IL-17 expression through histone modifications. Eur J Immunol. 2015; 45(9):2683–2693.
Falkenberg KJ, Johnstone RW. Histone deacetylases and their inhibitors in cancer, neurological diseases and immune disorders. Nat Rev Drug Discov. 2014;13(9):673–691.
Thakur VS, Deb G, Babcook MA, Gupta S. Plant phytochemicals as epigenetic modulators: role in cancer chemoprevention. AAPS J. 2014;16(1):151-163.
Kirk H, Cefalu WT, Ribnicky D, Liu Z, Eilertsen KJ. Botanicals as epigenetic modulators for mechanisms contributing to development of metabolic syndrome. Metabolism. 2008;57(7Suppl 1):16-23.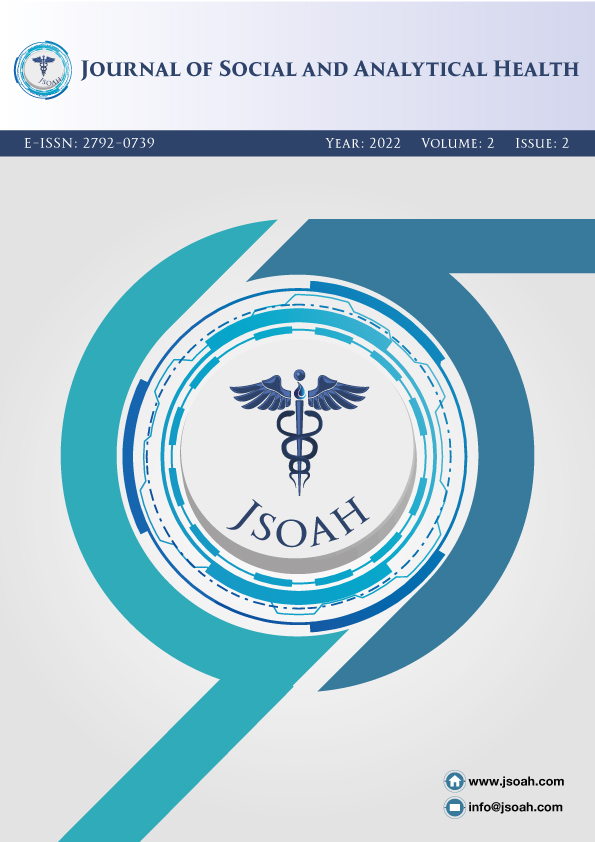 Downloads
How to Cite
Yaşar, M., & Gokmen, A. (2022). Remember/regeneration treatment method as a new holistic approach in patients with alopecia totalis: A case report. Journal of Social and Analytical Health, 2(2), 148–154. https://doi.org/10.5281/zenodo.6770075
License
Copyright (c) 2022 Journal of Social and Analytical Health
This work is licensed under a Creative Commons Attribution-NonCommercial 4.0 International License.