Our experiences with human papilloma virus
Keywords:
Human Papilloma Virus, Cervical Carcinoma, Typing
Abstract
Aim: Human papillomavirus (HPV) is a non-enveloped, double-stranded, circular DNA virus responsible for causing multiple epithelial lesions and cancers. The link between cervical squamous cell carcinoma and virus has been known for a long time. The aim of this study is to share the experiences of HPV detected in patients who applied to a gynecology and obstetrics clinic in Turkey.
Materials and Methods: The study was carried out on women who applied to a gynecology and obstetrics clinic in Turkey. A total of 84 women were included in the study. The study includes the data of our clinic for two years. HPV data obtained from the participants were classified and analyzed. HPV types were determined in our study. Pap smear test was performed on HPV positive participants and colposcopy was recommended.
Results: The average age of the participants was 36.2. The youngest participant is 19 years old, while the oldest participant is 62 years old. While 34 of the participants are single, the number of married participants is 50. There is no participant without sexual experience. All are sexually active. As a result of HPV examination, it was determined that 18 participants were HPV positive. The average age of HPV positive participants is 34.7 years. Of these, five participants are married and 13 participants are single. As a result of typing, HPV type 6 and type 11 were detected in six participants. The most common types detected in the participants were HPV Types 6 and 11.
Conclusion: Although the study does not reflect the frequency of HPV subtypes in our country, it is important in terms of giving an idea.
References
Bradbury M, Xercavins N, García-Jiménez Á, Pérez-Benavente A, Franco-Camps S, Cabrera S, et al. Vaginal Intraepithelial Neoplasia: Clinical Presentation, Management, and Outcomes in Relation to HIV Infection Status. J Low Genit Tract Dis. 2019 Jan;23(1):7–12.
Unger ER, Barr E. Human papillomavirus and cervical cancer. Emerg Infect Dis. 2004 Nov;10(11):2031–2.
Nunes EM, Talpe-Nunes V, Sichero L. Epidemiology and biology of cutaneous human papillomavirus. Clinics (Sao Paulo). 2018 Aug;73(suppl 1):e489s.
de Sanjosé S, Diaz M, Castellsagué X, Clifford G, Bruni L, Muñoz N, et al. Worldwide prevalence and genotype distribution of cervical human papillomavirus DNA in women with normal cytology: a meta-analysis. Lancet Infect Dis. 2007 Jul;7(7):453–9.
Bray F, Ferlay J, Soerjomataram I, Siegel RL, Torre LA, Jemal A. Global cancer statistics 2018: GLOBOCAN estimates of incidence and mortality worldwide for 36 cancers in 185 countries. CA Cancer J Clin. 2018;68(6):394–424.
Committee Opinion No. 704: Human Papillomavirus Vaccination. Obstet Gynecol. 2017 Jun;129(6):1.
Okunade KS. Human papillomavirus and cervical cancer. J Obstet Gynaecol J Inst Obstet Gynaecol. 2020 Jul;40(5):602–8.
Doorbar J, Egawa N, Griffin H, Kranjec C, Murakami I. Human papillomavirus molecular biology and disease association. Rev Med Virol. 2015 Mar;25 Suppl 1(Suppl Suppl 1):2–23.
Burd EM. Human papillomavirus and cervical cancer. Clin Microbiol Rev. 2003 Jan;16(1):1–17.
Adam E, Berkova Z, Daxnerova Z, Icenogle J, Reeves WC, Kaufman RH. Papillomavirus detection: demographic and behavioral characteristics influencing the identification of cervical disease. Am J Obstet Gynecol. 2000 Feb;182(2):257–64.
Williams VM, Filippova M, Soto U, Duerksen-Hughes PJ. HPV-DNA integration and carcinogenesis: putative roles for inflammation and oxidative stress. Future Virol. 2011 Jan;6(1):45–57.
Singh DK, Anastos K, Hoover DR, Burk RD, Shi Q, Ngendahayo L, et al. Human papillomavirus infection and cervical cytology in HIV-infected and HIV-uninfected Rwandan women. J Infect Dis. 2009 Jun;199(12):1851–61.
Najib FS, Hashemi M, Shiravani Z, Poordast T, Sharifi S, Askary E. Diagnostic Accuracy of Cervical Pap Smear and Colposcopy in Detecting Premalignant and Malignant Lesions of Cervix. Indian J Surg Oncol [Internet]. 2020/06/23. 2020 Sep;11(3):453–8. Available from: https://pubmed.ncbi.nlm.nih.gov/33013127
Jahic M, Jahic E. Diagnostic Approach to Patients with Atypical Squamous Cells of Undetermined Significance Cytologic Findings on Cervix. Med Arch (Sarajevo, Bosnia Herzegovina) [Internet]. 2016 Jul 27;70(4):296–8. Available from: https://pubmed.ncbi.nlm.nih.gov/27703293
Van Dyne EA, Henley SJ, Saraiya M, Thomas CC, Markowitz LE, Benard VB. Trends in Human Papillomavirus-Associated Cancers - United States, 1999-2015. MMWR Morb Mortal Wkly Rep. 2018 Aug;67(33):918–24.
Nyitray AG, Iannacone MR. The epidemiology of human papillomaviruses. Curr Probl Dermatol. 2014;45:75–91.
Handler NS, Handler MZ, Majewski S, Schwartz RA. Human papillomavirus vaccine trials and tribulations: Vaccine efficacy. J Am Acad Dermatol. 2015 Nov;73(5):758–9.
Akagi K, Li J, Broutian TR, Padilla-Nash H, Xiao W, Jiang B, et al. Genome-wide analysis of HPV integration in human cancers reveals recurrent, focal genomic instability. Genome Res [Internet]. 2013/11/07. 2014 Feb;24(2):185–99. Available from: https://pubmed.ncbi.nlm.nih.gov/24201445
Mirabello L, Clarke MA, Nelson CW, Dean M, Wentzensen N, Yeager M, et al. The Intersection of HPV Epidemiology, Genomics and Mechanistic Studies of HPV-Mediated Carcinogenesis. Vol. 10, Viruses. 2018.
Skinner SR, Wheeler CM, Romanowski B, Castellsagué X, Lazcano-Ponce E, Del Rosario-Raymundo MR, et al. Progression of HPV infection to detectable cervical lesions or clearance in adult women: Analysis of the control arm of the VIVIANE study. Int J Cancer. 2016 May;138(10):2428–38.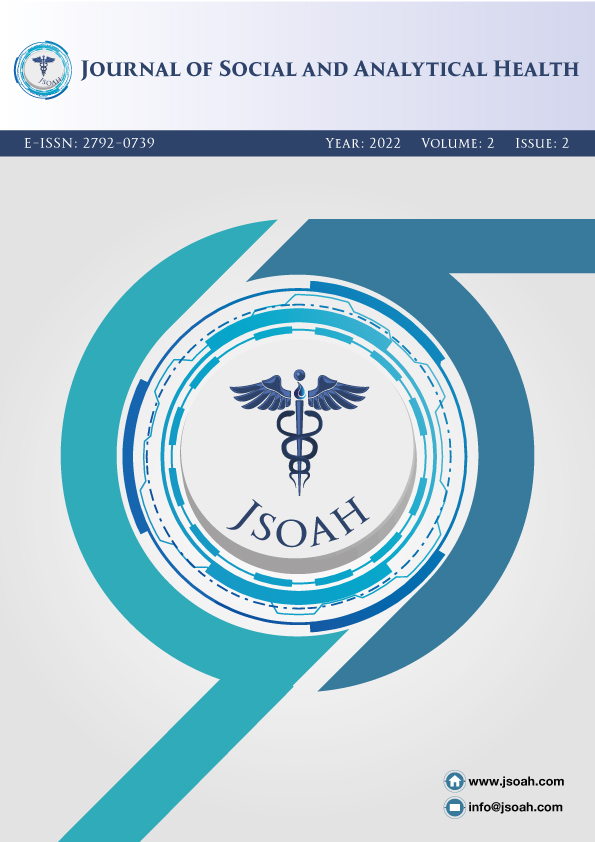 Downloads
How to Cite
Cabuk Comert, E. (2022). Our experiences with human papilloma virus. Journal of Social and Analytical Health, 2(2), 73–77. https://doi.org/10.5281/zenodo.6768892
Section
Orijinal Articles
License
Copyright (c) 2022 Journal of Social and Analytical Health
This work is licensed under a Creative Commons Attribution-NonCommercial 4.0 International License.