Pregnancy and sexuality: From concept to nursing approaches in perspective
Keywords:
Sexuality, Sexual Health, pregnancy, nursing
Abstract
Sexuality is a lifelong biopsychosocial concept that is affected by the attitudes, behaviors and thoughts of people and is shaped by the society in which they live. This concept varies according to the life periods of the person. Pregnancy is one of these life stages. During pregnancy, a woman tries to adapt to the changes that occur in her body from a physiological point of view, to adapt to motherhood and pregnancy from a psychosocial point of view, and to adapt to new roles. In this adaptation process, problems such as physiological complaints, disliking the appearance, thinking that pregnancy will change their life greatly, seeing pregnancy as an obstacle, decrease in sexual desire and ending sexual life can be experienced. The most effective way to deal with the lack of information, false information and myths, which are the main causes of these problems, is counseling. The evaluation of sexuality during pregnancy should be handled with a holistic perspective and with the participation of the spouses. The couple should be made to express their complaints, and they should be asked with detailed questions about how pregnancy feels, what it changes, what is received positively and negatively, how it affects sexuality, and their expectations and experiences. The problem with the answers given should be identified and a solution should be offered. The continuity of the counseling service is important in order to prevent the sexuality of pregnant women from being adversely affected and to cope with the problems. However, not only physiological changes, but also the changes created by pregnancy should be addressed in the training given in pregnant schools.
References
Bozdemir N, Özcan S. Cinselliğe ve cinsel sağlığa genel bakış. Turkish J Fam Med Prim Care. 2011;5(4):37–46.
WHO. Cinsellik [Internet]. 2006. Available from: https://www.who.int/health-topics/sexual-health#tab=tab_2
Uçtu Kul A, Bekmezci H, Özerdoğan N. Gebelikte cinsellik. Gümüşhane Üniversitesi Sağlık Bilim Derg. 2017;6(3):171–175.
Tandoğan Ö, Mecdi Kaydırak M, Oskay Ü. Erkeklerin gebelikte cinsel yaşamla ilgili mitleri. Androloji Bülteni. 2019;134–139.
Coşar Çetin F, Demirci N, Yeşilçiçek Çalık K, Çil Akıncı A. Gebelikte olağan fi̇zi̇ksel yakınmalar. Zeynep Kamil Tıp Bülteni. 2017;48(4):135–141.
Ertem G, Sevi̇l Ü. Gebeliğin cinselliğe etkisi. Dirim Tıp Gazetesi. 2010;85(1):40–47.
Terzioğlu F. Ebeveynliğe hazırlanma ve doğum öncesi bakım. In: Taşkın L, editor. Doğum ve Kadın Sağlığı Hemşireliği. 13th ed. Akademisyen Kitabevi; 2016.
Oche OM, Abdullahi Z, Tunau K, Ango JT, Yahaya M, Raji IA. Sexual activities of pregnant women attending antenatal clinic of a tertiary hospital in north-west nigeria. Pan Afr Med J. 2020;37(140):1–17.
Tosun Güleroǧlu F, Gördeles Beşer N. Evaluation of sexual functions of the pregnant women. J Sex Med. 2014;11(1):146–153.
Davari-Tanha F, A'lam ZR, Shirazi M, Askari F, Ghajarzadeh M. Comparison of sexual function in pregnant women with different gestational age. Mædica [Internet]. 2020;15(3):335. Available from: /pmc/articles/PMC7726517/%0A/pmc/articles/PMC7726517/?report=abstract%0Ahttps://www.ncbi.nlm.nih.gov/pmc/articles/PMC7726517/
Kızılkaya Beji N. Gebelikte görülen fizyolojik/psikolojik değişiklikler. In: Hemşireler ve Ebelere Yönelik Kadın Sağlığı ve Hastalıkları. 1st ed. 3; 2016. p. 285–302.
Nakić Radoš S, Soljačić Vraneš H, Šunjić M. Sexuality During Pregnancy: What is important for sexual satisfaction in expectant fathers? J Sex Marital Ther. 2015;41(3):282–293.
Esencan TY, Kızılkaya Beji N. Günümüze değin cinsellik konusunda yapılan çalışmaların irdelenmesi. Androloji Bülteni. 2015;17(63):301–310.
Lagadec N, Steinecker M, Kapassi A, Magnier AM, Chastang J, Robert S, et al. Factors influencing the quality of life of pregnant women: a systematic review. BMC Pregnancy Childbirth. 2018;18(1):1–14.
Gümüşay M, Erbil N, Demirbağ BC. Investigation of sexual function and body image of pregnant women and sexual function of their partners. Sex Relatsh Ther. 2021;36(2–3):296–310.
Beyazıt F, Pek E, Şahin B. Alterations in sexual functions during and after pregnancy: prejudice? or real? Klin Psikiyatr Derg. 2018;21(4):397–406.
Bilge Ç, Mecdi Kaydırak M, Öner Ö, Akdolun Balkaya N. Gebelikte ci̇nsel ı̇şlev ve ci̇nsel memnuni̇yetin değerlendi̇ri̇lmesi̇. İnönü Üniversitesi Sağlık Hizmetleri Mesl Yüksek Okulu Derg. 2021;9(2):684–693.
Bilen Sadi Z, Aksu H. Gebelikte eşleri̇n ci̇nsel yaşamı ve etki̇leyen etmenleri̇n ı̇ncelenmesi̇. J Anatolia Nurs Heal Sci. 2016;19(2):128–138.
Kök G, Güvenç G, Bilsel H, Güvener A. Gebelik döneminde kadınların beden algısı farklılık gösterir mi? J Educ Res Nurs. 2019;15(4):209–215.
Bacacı H, Ejder Apay S. Gebelerde beden imajı algısı ve distres arasındaki ilişki. Düzce Üniversitesi Sağlık Bilim Enstitüsü Derg. 2018;8(2):76–82.
Khalesi ZB, Bokaie M, Attari SM. Effect of pregnancy on sexual function of couples. Afr Health Sci. 2018;18(2):227–234.
Ribeiro MC, de Tubino Scanavino M, do Amaral MLSA, de Moraes Horta AL, Torloni MR. Beliefs about sexual activity during pregnancy: a systematic review of the literature. J Sex Marital Ther. 2017;43(8):822–832.
Alizadeh S, Riazi H, Majd HA, Ozgoli G. The effect of sexual health education on sexual activity, sexual quality of life, and sexual violence in pregnancy: a prospective randomized controlled trial. BMC Pregnancy Childbirth. 2021;21(1):1–11.
Karakuş A, Yanıkkerem E. Factors affecting pregnancy sexuality. Int Ref J Nurs Res. 2015;2(3):91–112.
Taşkın L. Gebelikte annenin fizyolojisi. In: Taşkın L, editor. Doğum ve Kadın Sağlığı Hemşireliği. 13th ed. Dünya Tıp Kitabevi; 2016.
Gonçalves B, Ferreira C, Alves CT, Henriques M, Azeredo J, Silva S. Vulvovaginal candidiasis: epidemiology, microbiology and risk factors. Crit Rev Microbiol. 2016;42(6):905–927.
Şatıroğlu H, Aydınuraz B. Kandidiazis. İç Hast Derg. 2007;14(3):168–170.
Mtibaa L, Fakhfakh N, Kallel A, Belhadj S, Belhaj Salah N, Bada N, et al. Les candidoses vulvovaginales : etiologies, symptômes et facteurs de risque. J Mycol Med [Internet]. 2017;27(2):153–158. Available from: http://dx.doi.org/10.1016/j.mycmed.2017.01.003
Özsoy AZ, Nacar MC, Çakmak B, Doğru H, Delibaş İB, İşgüder ÇK, et al. Tokat ilinde üniversite hastanesi kadın hastalıkları ve doğum polikliniğine başvuran gebelerde idrar yolu enfeksiyonu: üç- yıllık değerlendirme. J Contemp Med. 2016;6(2):100–103.
İnci M, İnci M, Davarcı M. Urinary tract infections and treatments in pregnancy. Türk Üroloji Semin Urol Semin. 2011;2(5):124–126.
Ghouri F, Hollywood A, Ryan K. Urinary tract infections and antibiotic use in pregnancy-qualitative analysis of online forum content. BMC Pregnancy Childbirth. 2019;19(1):1–8.
DSM IV. 4th ed. Hekimler Yayın Birliği; 1994. 203–219 p.
Pauleta JR, Pereira NM, Graça LM. Sexuality during pregnancy. J Sex Med. 2010;7(1):136–142.
Arıca SG, Alkan S, Bali S, Mansuroğlu YE, Özer C. Gebeliğin cinsel yaşam üzerine etkileri. Turkish Fam Physcian [Internet]. 2011;2(3):19–24. Available from: www.turkishfamilyphyscian.com
Topatan S, Koç E. Gebelik döneminde yaşanan kadın cinsel sıkıntı durumu ve ilişkili faktörler. Fırat Üniversitesi Sağlık Bilim Tıp Derg. 2020;34(1):13–19.
Aksoy A, Yılmaz Vefikuluçay D, Yılmaz M. Gebelikte ci̇nsel yaşantıyı neler etki̇ler? Adnan Menderes Üniversitesi Sağlık Bilim Fakültesi Derg. 2019;3(1):45–53.
Koç E, Oskay Ü. Postpartum dönemde cinsellik ve danışmanlık. 2015;2(1):15–26.
Gönenç İM, Topuz Ş. Gebelikte cinsel sağlık. In: Büyükkayacı Duman N, editor. Cinsel Sağlık. Nobel Tıp Kitabevleri; 2019; 190–193.
Gür EY, Pasinlioğlu T. Gebelerin gebelik sürecinde beden imajını algılama durumlarının belirlenmesi. Ebelik ve Sağlık Bilim Derg. 2020;3(2):71–81.
Koyun A, Taşkın L, Terzioğlu F. Yaşam dönemlerine göre kadın sağlığı ve ruhsal işlevler: hemşirelik yaklaşımlarının değerlendirilmesi. Psikiyatr Güncel Yaklaşımlar [Internet]. 2011;3(1):67–99. Available from: http://dergipark.ulakbim.gov.tr/pskguncel/article/view/5000076377
Gönenç İM, Çakırer Çalbayram N. Contributions of pregnancy school program, opinions of women on the education and their post-education experiences. J Hum Sci. 2017;14(2):1609-1620.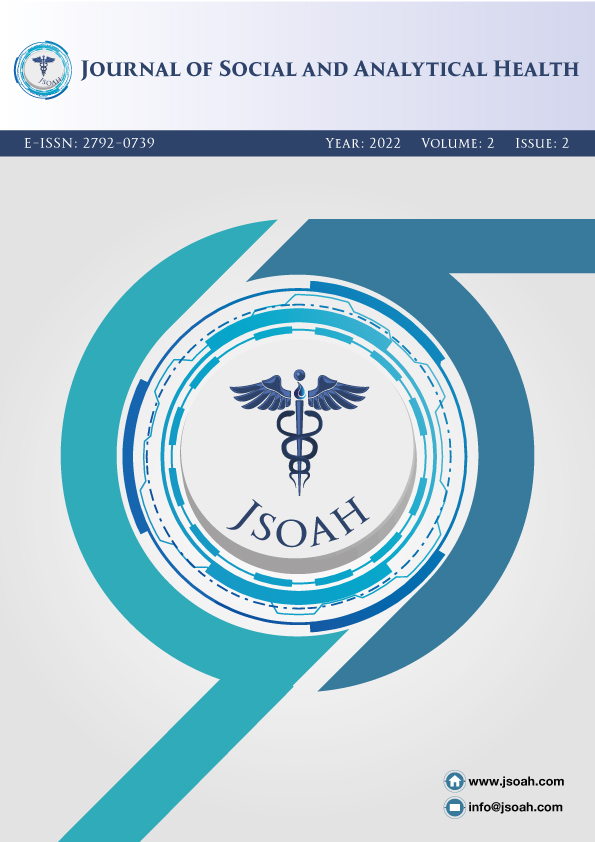 Downloads
How to Cite
Esenkaya, E. (2022). Pregnancy and sexuality: From concept to nursing approaches in perspective. Journal of Social and Analytical Health, 2(2), 161–165. https://doi.org/10.5281/zenodo.6770144
License
Copyright (c) 2022 Journal of Social and Analytical Health
This work is licensed under a Creative Commons Attribution-NonCommercial 4.0 International License.