Care approach in newborns diagnosed with or suspected of Covid-19
Covid-19 and newborn
Keywords:
Covid-19, Pandemic, Newborn Care
Abstract
As the Covid-19 virus affects every age group, it has started to affect children and even babies day by day. The incidence of this virus in newborns has increased. However, there is no definite information about the diagnosis, treatment and care of the disease yet. Although there is no definite information about the transmission of the virus from the mother to the fetus; It is important to carry out a multidisciplinary approach from the planning of the birth to the follow-up and isolation process of the newborn. The newborn should be observed closely, and if necessary, the treatment should be started by separating them from the mother. In addition to these, information and guidance about giving breast milk, which is the right of every baby, should be done meticulously. If possible, the mother should breastfeed by wearing a surgical mask and maintaining hand hygiene. At the time of discharge, first of all, the mother/family should be educated in an understandable way. He can be discharged after necessary information.
References
Who.int. World Health Organization. Coronavirus disease 2019 (COVID-19). Available from:https://www.who.int/docs/default-source/coronaviruse/situation-reports/20200321-sitrep-61-covid
Li H, Liu SM, Yu XH, Tang SL, Tang CK. Coronavirus disease 2019 (COVID-19): current status and future perspective. Int J Antimicrob Agents. 2020; 55(5);105951. doi: 10.1016/j. ijantimicag.2020.105951
Zhang W, Du RH, Li B, Zheng X, Yang X, Hu B et al. Molecular and serological investigation of 2019-nCoV infected patients: implicati- on of multiple shedding routes. Emerg Microbes Infect 2020; 9(1): 386-389.
Lauer SA, Grantz KH, Bi Q, Zheng Q, Jones F, Meredith H, et al. The incubaton period of 2019-nCoV from publicly reported confirmed cases: estimation and application. Annals of internal medicine. 2020. ;172(9):577-582.
Lu Qi, Shi Yuan. Coronavirus disease (COVID‐19) and neonate: What neonatologist need to know. J Med Virol. 2020; 92(6): 564-567. doi: 10.1002/jmv.25740
Dong L, Tian J, He S, Zhu C, Wang J, Liu C, et al. Possible Vertical Transmission of SARS-CoV-2 From an Infected Mother to Her Newborn. JAMA. 2020 Mar 26. doi:10.1001/jama.2020.4621
Uygur Ö, Öncel MY. Perinatal ve Yenidoğan Döneminde Covid-19 Enfeksiyonu. İzmir Tepecik Eğitim Hastanesi Dergisi.2020;30:63-69.
Liu H, Zhao LWS, Kwak-Kim J, Mor M, Liao AH. Why Are Pregnant Women Susceptible to COVID-19? An Immunological Viewpoint. J Reprod Immunol. 2020; 139:103122. doi: 10.1016/j.jri.2020.103122
Chowel G, Abdirizak F, Lee S, Lee J, Jung E, Nishiura H et al. Transmission charcteristics of MERS and SARS in the healthcare setting: a comparative study. BMC Med. 2015; 13(1):1-12.
Erdeve Ö, Çetinkaya M, Baş AY, Narlı N, Duman N, Vural M et al. The Turkish Neonatal Society proposal for the management of COVID-19 in the neo- natal intensive care unit. Turk Pediatri Ars. 2020; 55(2): 86-92.
Zaigham M, Andersson O. Maternal and perinatal outcomes with COVID-19: A systematic review of 108 pregnancies. Acta Obstet Gynecol Scand. 2020;7:10.1111/aogs.13867. doi: 10.1111/aogs.13867
Liang H, Acharya G. Novel corona virus disease (COVID-19) in pregnancy: What clinical recommendations to follow.Acta Obstet Gynecol Scand. 2020;99:439-442. doi: 10.1111/aogs.13836
nhc.gov.cn. National Health Commission of People's Republic of China. Diagnosis and treatment of pneumonia caused by novel coronavirus (trial version 4). Available from: https ://www.nhc. gov.cn/xcs/zheng cwj/202001/42945 63ed3 5b4320 9b31 739bd 0785e 67/files /7a930 91112 67475 a99d4 30696 2c8bf 78.pdf.
Guan WJ, Ni ZY, Hu Y, Ling WH, Ou Cg, He JX, et al. Clinical characteristics of coronavirus disease 2019 in China. N Engl J Med. 2021; 1708-1720.
Wang D, Hu B, Hu C, Zhu F, Liu X, Zhang J, et al. Clinical characteristics of 138 hospitalized patients with 2019 novel coronavirus in fected pneumonia in Wuhan, China. JAMA. 2020;323(11):1061-1069.
Chen N, Zhou M, Dong X, Qu J, Gong F, Han Y, et al. Epidemiological and clinical charac- teristics of 99 cases of 2019 novel coronavirus pneumonia in Wuhan, China: a descriptive study. Lancet. 2020;395(10223):507-13.
Bouthry E, Picone O, Hamdi G, Grangeot L, Ayoubi JM, Vauloup C. Rubella and pregnancy: diagnosis, management and outcomes. Prenat Diagn. 2014; 34: 1246-53.
Dursun P. SARS-CoV-2 (COVID-19) Enfeksiyonunun Gebelik ve Fetus Üzerine Etkilerİ, YIU Saglik Bil Derg. 2020; 1:73−77.
Ovalı F. Yenidoğanlarda COVID-19 enfeksiyonları. Anatolian Clinic the Journal of Medical Sciences. 2020;25(Special Issue on COVID 19): 23-35.
Zhang Q, Cong M, Wang N, Li X, Zhang H, Zhang K et al. Association of angiotensin converting enzyme 2 gene polymorphism and enzymatic activity with essential hypertension in different gender: a case-control study. Medicine. 2018; 97(42): e12917.
covid19.saglik.gov.tr. T.C. Sağlık Bakanlığı Halk Sağlığı Genel Müdürlüğü, COVID-19(SARS-CoV2 Enfeksiyonu) Rehberi.
Available from: https://covid19.saglik.gov.tr/TR-66301/covid-19-rehberi.html
Chandrasekharan P, Vento M, Trevisanuto D, Partridge E, Underwood M, Wiedeman J et al. Neonatal Resuscitation and Postresuscitation Care of Infants Born to Mothers with Suspected or Confirmed SARS-CoV-2 Infection.Am J Perinatol. 2020;10.1055/s-0040-1709688.
covid19.saglik.gov.tr. Çocukluk Çağında Tedavide Kullanılabilecek İlaçların Dozları ve Uygulama Şekilleri. T.C. Sağlık Bakanlığı Halk Sağlığı Genel Müdürlüğü, COVID-19 (SARS-CoV-2 Enfeksiyonu) Çocuk Hasta Yönetimi ve Tedavi, Bilimsel Danışma Kurulu Çalışması, T.C. Sağlık Bakanlığı, 3 Eylül 2021) Avaible from: https://covid19.saglik.gov.tr/Eklenti/42283/0/covid19rehbericocukhastayonetimivetedavi
neonatology.org.tr. COVID-19 Enfeksiyonu veya Şüphesi Olan Yenidoğan Bebeklere Neonatal ve Perinatal Dönemde Yaklaşım Önerileri. Türk Neonatoloji Derneği. [Updated 23 March 2021, Rev2]. Avaible from: http://www.neonatology.org.tr/wp-content/uploads/2020/04/Untitled-attachment-00052.pdf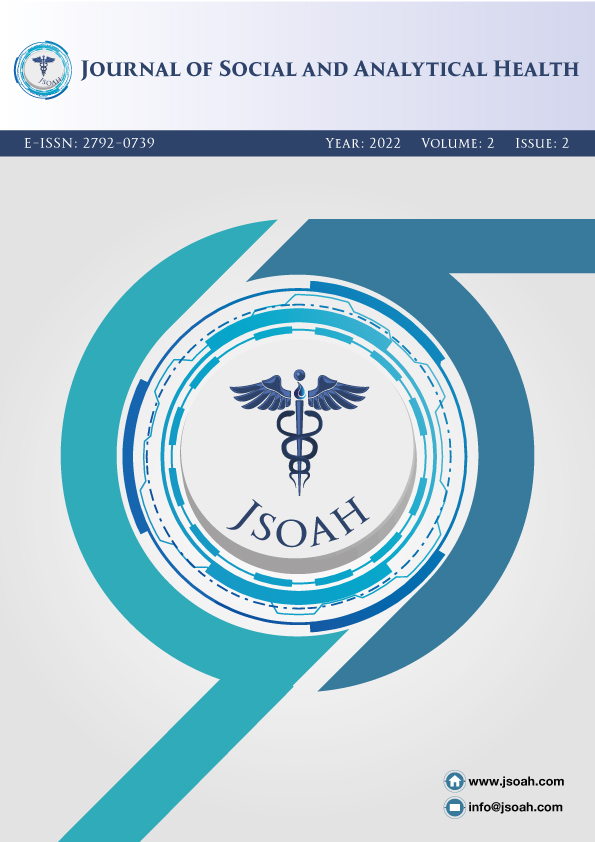 Downloads
How to Cite
Damsarsan, S., & Oren, B. (2022). Care approach in newborns diagnosed with or suspected of Covid-19: Covid-19 and newborn. Journal of Social and Analytical Health, 2(2), 155–160. https://doi.org/10.5281/zenodo.6770117
License
Copyright (c) 2022 Journal of Social and Analytical Health
This work is licensed under a Creative Commons Attribution-NonCommercial 4.0 International License.